Rick Beaver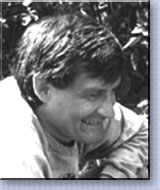 Rick Beaver paints "Children of the Sun, Moon and Earth": subjects expressed in flowing, lyrical lines. Creatures and their active environments. Landscapes, enormous and fragile. People in the celebration of life.
Rick is of Ojibway descent and currently resides in the Alderville First Nation in Central Ontario but has lived on the Pacific, on the prairies and in the mountains of western Canada. His early traditional influences and his formal education as a wildlife biologist combine scientific knowledge with passionate respect for all things. His animated portraits celebrate the possibilities of land, life and time in gouache and acrylics, in silkscreen prints and stone lithography. Now he is pleased to announce that representations of his designs are being produced in the media of wooden plaques, cards and needlepoint.
Rick's first solo Canadian exhibition was in 1978. Since then his work has been exhibited in New York, Los Angeles, Geneva, Nairobi, Kenya, The Hague, collected by corporations, by government and by private individuals. He has been involved in social and environmental concerns: African Famine relief, the Canadian Native Arts Foundation, Earth Day, and the Western Canada Wilderness committees, for which he was awarded the governor General's commemorative medal in 1993.
His endeavors include the establishment of Sweetgrass Studios (www.rickbeaver.com) on the Alderville First Nation as a vehicle for marketing his work, the illustration of the book Before the Silence by author Ruth Clarke, publishing further books by this wonderful author and participating in documentaries for the television media. Rick's voice and art may be found in portrayals of indigenous culture at several venues throughout the province of Ontario in Canada.
Today finds Rick performing the duties as Natural Heritage Coordinator for Alderville First Nation in addition to his productive art studio sessions.
Rick is grateful for the continued enthusiastic response of his viewers.