Maxine Noel (Ioyan Mani)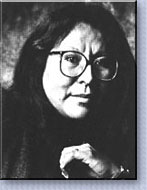 Ioyan Mani ... to walk beyond. A visionary elder gave Maxine Noel her Sioux name shortly after birth, and walk beyond she does. Maxine Noel is Santee Oglala Sioux, born on the Birdtail Reservation in south western Manitoba. The eldest of eleven children, she spent her early childhood amidst the positive reinforcement of a loving family on a quiet reserve. There she learned how to draw. Residential school brought with it the struggles of submersion of the native spirituality and culture. Maxine feels that strength, enrichment and positive results have come from that struggle.
While working, for over a decade as a legal secretary in Edmonton and Toronto, she continued with her art, becoming a self taught artist. During her time as a coordinator at the Native Friendship Centre in Northern Ontario, she was encouraged by a fellow native artist to show her art work to a Toronto art dealer. Her career as an artist had begun. Since that first one person exhibition in 1980, Maxine has participated in many exhibitions.
With her experience in design, painting, etching, serigraphy, stone lithography and cast paper, Maxine Noel is able to design for a wide range of media, now including needlepoint. Her subjects are mothers, children, dancers, lovers, and animals of the plains. In her work, Maxine seeks through the use of fluid images, flowing lines and subtle colors, to present essential characteristics of the Native people; their sensibilities, generosity and loving nature. Her presentation is fresh and distinctly modern with mystical and spiritual qualities. The flowing lines indicate strength and serenity, and the simplicity of composition and abstraction gives her painting a unique character.
Maxine was one of the first artists to work with the Canada and Africa Village Twinning Programs, with both ISAID and CUSO, contributing her time and her images.
Maxine received the Golden Jubilee Medal, an approved creation of Her Majesty Queen Elizabeth II, in honour of the 50th anniversary of Her accession to the Throne, and presented to citizens of Canada who have demonstrated exceptional qualities and outstanding service to their country.
It is her strong commitment to her culture that involves her in work with the National Aboriginal Achievement Foundation, of which she is a Founding Board Member and current Chairperson.
She is a consultant, artistic director, and artist; she has lectured and been a panel member at the Saskatchewan School of Fine Arts, the University of Western Ontario, the Ontario College of Art and numerous other venues.
Maxine Noel believes that there is a common denominator in all cultures of the world. With that idea in mind she has participated in video productions, as well as television and radio interviews which act as learning tools, assisting in bridging the gap between native and non natives, young and old.